St. Patrick's Day is March 17 and Mollie Stone's helps you celebrate with our delicious , baked in-house Irish Soda Bread.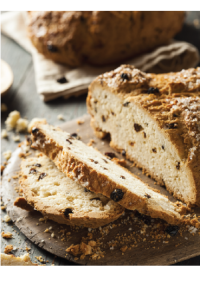 Why is Soda Bread synonymous with the Irish and St. Patrick's Day? In the 1800s, bread in Ireland was made at home rather than in bakeries. Ireland was a poor country and so housewives had few ingredients on hand and most did not have ovens. The flour the Irish used was from soft wheat which is naturally low in gluten and does not interact well with yeast, the traditional leavening agent for breads.
Basic Irish Soda Bread is made with four ingredients:  flour, baking soda, buttermilk and salt. Bicarbonate of soda, or baking soda, was used for baking in the early 1800s by the Irish. No one quite knows how baking soda was introduced into Irish homes, but the combination of these ingredients and the ability to bake over an open hearth rather than an oven, worked well for Irish households. A cross was cut on the top of the loaf prior to baking, some say as a superstition to ward off evil spirits.  In reality, the cross helps the bread expand while baking and makes it easier to break apart.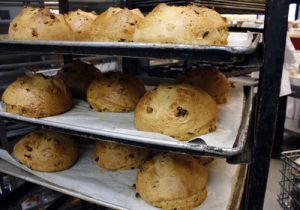 Our version of Soda Bread adds butter and Raisins which make the treat so much more delicious. Traditionally these more indulgent additions were only used for special occasions. We think you should eat this special occasion bread every day!
Try some of our delicious Irish Soda Bread, sliced and toasted with some Kerrygold Pure Irish Butter.