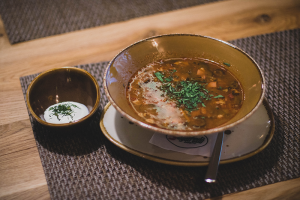 On these cold chilly days soup is a comfort food for many of us.  It's convenient to open a can of soup you have in your kitchen, or pick up ready-made soup at our Deli but it's also easy to make soup at home.
You can start with a base (broth or stock) and then add whatever ingredients you like.  When your shopping for your ingredients you may be looking at many options to start your soup…… stock, broth, bone broth….what's the difference and which one should I buy?
Here's a quick rundown on the difference between Stock and Broth (and bone broth).
Stock is a combination of water, animal bones, herbs, and vegetables simmered for many hours over a low heat.  The bones are usually roasted first to really bring out the flavor.  It is strained and used as an ingredient in another recipe sauces, gravy or soup. When chilled it is slightly thick and gelatinous.
Broth comes from cooking meat and the bones (think of the leftover meat and bones from your turkey dinner).    Broths are not cooked as long as stocks as overcooking would result in tough flavorless meat.
So if stock comes from bones and broth comes from meat, where does Bone Broth come from?
Bone broth is the hybrid of stock and broth.  Bone Broth is generally made from bones, which contain marrow, water, simmered with herbs and vegetables. It cooks for a few hours is strained and seasoned. It is a healthy beverage served warm. It can be used as a base for soup.
Mollie Stones' has a selection of bone broth options in the refrigerated section of our Produce Department and a selection of stocks in cartons, cans and bases in our grocery department.
Our Deli Department has a large selection of soups to ward of the chill nourish the body or please the palate
If your feeling adventurous and want to make your own stock, stop by our Meat Department for some beef soup bones.