Since St. Patrick's Day is on a Saturday this year, why not start your morning with an Irish Coffee.   Irish Coffee was invented back in 1939 by Joe Sheridan.
Here's how to make it: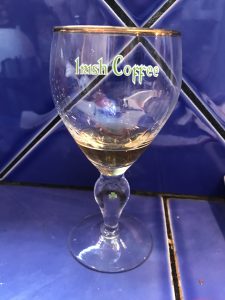 1 shot of your favorite Irish Whiskey.
If your favorite happens to be a very expensive single malt then by all means,  pour away.  If you don't have any Irish Whiskey at home (and yes you must use Irish Whiskey here),  we recommend Tullamore Dew. It's a favorite among Irish whiskeys for its distinctive, accessible taste.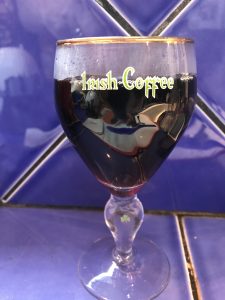 Hot coffee.
Like whiskey, everyone has a favorite coffee.  We won't even get started here on which coffee to use, just make sure it's of a good quality.  If you like it strong, make an espresso or brew a good dark roast.  If you you like it lighter, perhaps just wave some coffee beans over a glass of hot water.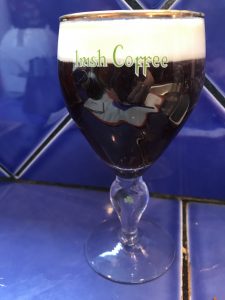 Heavy cream.
Lightly whip the cream in a blender to a count of 12.  Pour over the back of a spoon to float on top of the coffee.  The cream on top keeps your coffee warm.
And of course, no cocktail is complete without a toast.  In honor of St. Patrick's Day, here are a couple of Irish toasts:
"May the luck of the Irish
Lead to happiest heights
And the highway you travel
Be lined with green lights.
Wherever you go and whatever you do,
May the luck of the Irish be there with you."
"If you're lucky enough to be Irish…
You're lucky enough"
"Here's to a long life and a merry one.
A quick death and an easy one.
A pretty girl and an honest one.
A cold pint– and another one!"
Sláinte – to your good health.